Apartment Managers Professional 10-Pack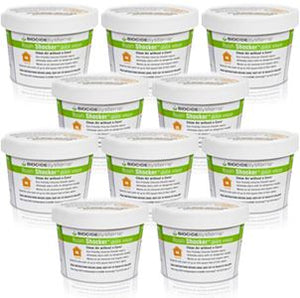 Room Shocker™ is the most effective odor eliminator for apartments, and this money-saving 10-pack includes enough Room Shocker™ to cover 4000 sq. ft. Ideal for property managers, real estate agents, and home restoration professionals, each Room Shocker™ in the bundle covers 400 sq. ft. with safe and effective odor-eliminating chlorine dioxide.
Manufacturer:
Biocide Systems
Made in the USA.
100% Money Back Guarantee
Why Is Room Shocker™ the Best Odor Eliminator for Apartments?
Room Shocker™ uses ClO2-DMG technology to bond with and change odor molecules to completely eliminate obnoxious smells in your apartments. Spray or solid air fresheners and scented candles only cover up odor-causing molecules, and surface cleaning does not penetrate into carpets, drapes, and blinds. Charcoal bags, baking soda, and coffee grounds may absorb odors from the air, but this is only half the battle that rental property managers face.
To completely eliminate odor in an apartment, Room Shocker™ releases chlorine dioxide that binds to odor molecules for complete apartment odor removal. Without harsh chemicals, Room Shocker™ breaks down the lingering odors into harmless water vapor and a fresh scent of clean chlorine, similar to a swimming pool. Open windows and air out the slight smell from the apartment for a fresh and clean result that will make you proud to show the place to new tenants.
How the Room Shocker™ Odor-Eliminating Product Works
Each Room Shocker™ treats a single room or studio apartment up to 400 square feet to get rid of bad smells like cigarette smoke or pet odors. By using ClO2, the odor-neutralizing substance reaches every nook and cranny of the apartment. Even musty smells like mold and mildew can be eliminated in bathrooms and laundry rooms.
Room Shocker™ makes your entire facility smell fresh and clean. Treatment of each room takes 4-24 hours, depending on the severity of your odor problem, and leaves no toxic residue behind. If you are looking for a professional-grade odor eliminator for your home or business, Room Shocker™ is the product you should keep on hand for sudden vacancies and apartment odor emergencies.


Apartment odor removal can be a tough job. The Apartment Manager's Professional Bundle includes 10 individual containers of Room Shocker™ to make handling tough problems easier.

Real estate agents and property caretakers use it to freshen homes and rental properties before showings or to start the season, because Room Shocker™ has odor-neutralizing particles that remove tough odors like these quickly and completely:
Cigarette smoke and tar
Mildew, must, and wet basement smells
Spilled and spoiled food smells
Strong cooking odors
Pet odors and even skunk smell


How to Use Room Shocker™ to Eliminate Odor in an Apartment
First, remove any solid air fresheners or bamboo charcoal air purifying bags and sachets. Close windows and open drawers, cupboards, and closet doors so that the ClO2 vapors can reach every part of the room.
Open the Room Shocker™ container and read the information on the foil packet included.
Give the packet a good shake and tear open at the notch on the pouch, pouring the ingredients back into the container.
Add one full measuring cup of warm tap water to activate the product and close the door of the room.
Allow the room to remain closed for 4-24 hours before opening the doors and windows to ventilate any remaining ClO2 vapors.
Close the container and dispose of the product in an outdoor waste container.
Enjoy the fresh scent of a truly clean and odor-free apartment.


The Apartment Manager's Professional Bundle Is Fully Guaranteed
If you are not entirely satisfied with the way Room Shocker™ removes strong and persistent apartment odors, we will refund your money. Hotels, motels, apartments, and dorms are all prime candidates for the odor-eliminating power of Room Shocker™ in a money-saving bundle pack. Order now or give us a call with any questions about your specific application.