RV Cleanup Bundle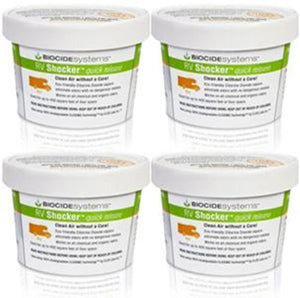 Solve the biggest odor problems with this 4-pack at great savings!
4-pack bundle of RV Shocker - each unit treats one small or medium RV. For a Larger RV, use two RV Shockers.
Steps for Using RV Shocker ClO2 Odor Eliminator
Step 1: Prepare your RV in a shaded area. Open cabinets and storage areas.
Step 2: Activate the packet(s), keeping people and pets out of the RV until treatment is complete.
Step 3: Keep doors, windows, and vents closed for 4-24 hours, depending on the severity of the odor problem.
Step 4: Deodorize cooling and heating systems by running the fans for 20 minutes while the RV is unoccupied.
Step 5: Fully ventilate your RV, opening all doors, windows and vents, and allow the CIO2 vapors to dissipate for at least 20 minutes. Cover the used RV Shocker containers and dispose of them in the trash.
Manufacturer:
Biocide Systems
Made in the USA.
100% Money Back Guarantee
Easy-to-Use RV Odor Eliminator
RVs, motorhomes, and campervans often have some of the toughest odor problems around. Relatively small spaces that get heavy use, including cooking, pets, food storage, and a wide variety of surfaces can all make your RV one of the toughest things to deodorize. Unpleasant smells from black water tanks can make your RV almost unliveable.
Biocide Systems RV Shocker™ uses safe and effective chlorine dioxide to eliminate RV smell, and the RV odor eliminator 4-pack bundle will take care of large Class A, Class C, or several smaller RVs. Each RV Shocker treats one small or medium RV. For a Larger RV, use two RV Shockers.
This revolutionary RV odor eliminator can completely remove foul odors like these:
● Mold and mildew
● Holding tank odors
● Spoiled food
● Pet accidents
● Cooking smells
● Cigarette smoke
● Odors from sinks and shower drains


What Makes the RV Shocker Bundle So Effective?
RV Shocker will completely eliminate RV odors inside a small or medium RV. Many RVs are considerably larger and will require two packets used simultaneously to successfully treat a big odor problem. Using the right number of single-use packets, RV Shocker will work in 24 hours or less.
The powerful CIO2 molecules are released when the product is activated, creating a mist of charged particles that both attract and then interact with the odor-causing molecules in your RV. This chemical reaction destroys the odor-causing particles and leaves behind a fresh, clean scent, as a slight bleach odor fully dissipates.
If you are wondering how to get rid of black tank odor in your recreational vehicle or camper, RV Shocker is the answer. The activated CIO2 vapors will penetrate carpets, upholstery, headliners, visors, cabinets and drawers, and open storage areas to fully eliminate the most difficult odor problems.
Highly Effective and Environmentally Friendly
Many RV owners struggle with food and pet odors, forgotten items in RV refrigerators, or mold and mildew from leaks or open vents. The larger problem of how to eliminate RV toilet odors can leave many RVs sitting idle. The answer is not as simple as more air fresheners or a box of baking soda. Harsh chemicals and bleach can ruin your RV interior.
The RV Shocker bundle uses a safe, 100% biodegradable, non-carcinogenic formula to completely eliminate black tank odors, pet smells, and even gasoline or burnt oil smells from the largest RV. Our product can even get rid of odors that have taken hold inside your heating and cooling systems by following package directions.